I am an expression of unconditional love born to help others by providing excellent service full of respect and value in an atmosphere of enthusiasm.

Dr KK Agarwal
Dr KK Aggarwal, one of the most prominent authorities in the medical fraternity, died on Monday at 11.30 p.m. "after a long fight with Covid," according to an official response posted on his Twitter account.
Former IMA president and Padma Shree recipient had been on ventilator support at Delhi's AIIMS hospital for the past few days and finally succumbed to the illness at the age of 62. He had received both doses of the vaccine.
According to the family, Dr KK Agarwal wanted his life celebrated not mourned and is survived by his wife, Dr Veena Aggarwal, and their two children Nilesh  and Naina
In a video posted on his account on May 12, he urged people to "stop alcohol intake one week before and after taking the vaccine." While he was in the hospital, those in charge of his account posted details on the black fungus.
Passing away of Dr. KK Aggarwal is a setback for the whole nation. He acted all his life for the health rights of common people especially poor, deprived n marginalized. A great human being. RIP!

— Arvind Kejriwal (@ArvindKejriwal) May 18, 2021
"The passing away of Dr KK Aggarwal is a setback for the whole nation. He acted all his life for the health rights of common people especially the poor, deprived and marginalized. A great human being. RIP!" –  Arvind Kejriwal tweeted.
Early Life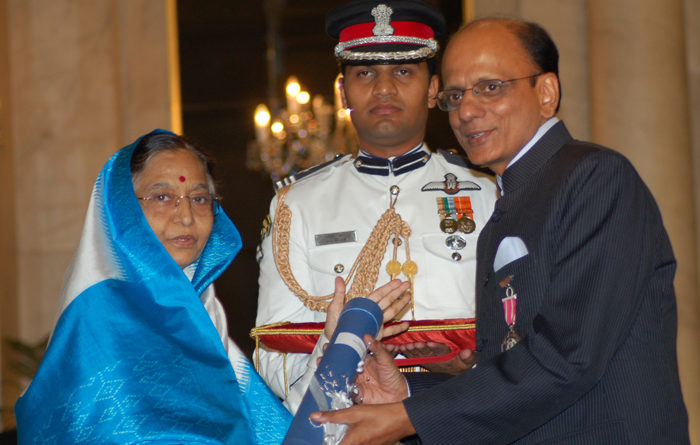 Dr Aggarwal was born on September 5, 1958, and did most of his schooling at ASVJ Hr. Sec. School, Daryaganj, Delhi.
Throughout his MBBS, he was the best student at Nagpur University in the first and second years, and in the final year, he was the best male student. He also won four Gold Medals, nine Silver Medals, and five Bronze Medals for excelling in various medical subjects.
He became part of Moolchand Hospital in 1983 after receiving his MD Medicine and became a consultant in an expedited promotion process recognizing his special talents.
Being a prolific writer on public health issues, he has 400 publications in newspapers and magazines to his credit, as well as appearances on radio and television in health-related talks. He was one of the most widely cited physicians in the world of medicine, having been quoted in the national press over 12,000 times. He was also the Editor-in-Chief of the IJCP Group of Publications, which published more than 30 magazines, newspapers, and healthcare educational items for physicians.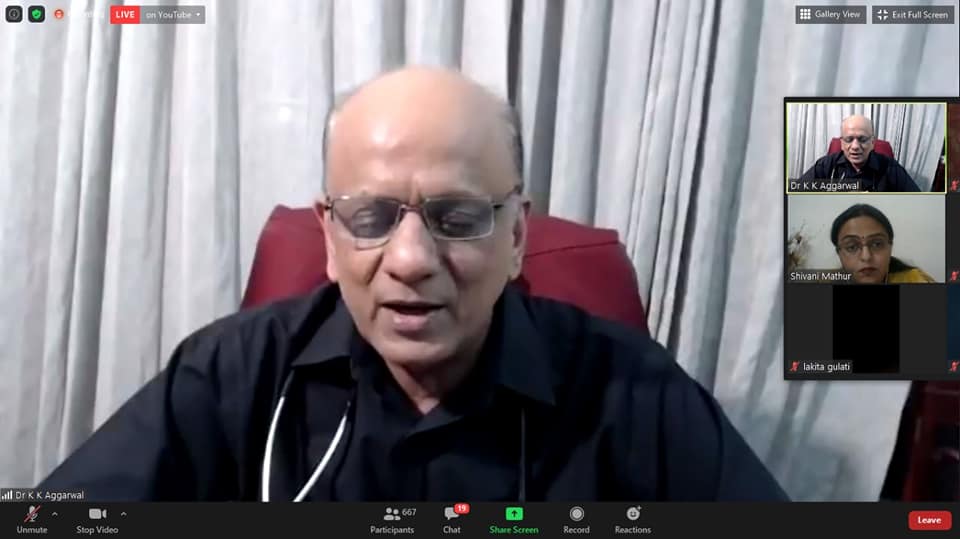 Extensively dedicated his life to raise awareness and launched many social missions and campaigns such as Health Durbar;  Perfect Health Parade; Health Tambola; Kaun Banega Healthy Crorepati; Tongathon March, Health Break (break ke baad); Walks on Health subjects; Tempothon; Mr Tobacco- an anti-Tobacco campaign; Delhi Minister's Pledge to boycott tobacco promoting functions; Take care of your sweetheart Glow red campaign;  100 meters race for the patients with knee pain or replaced  knee;  The green concert on World Environment Day; Tobacco effigies burning with all rituals at cremation ground;  Health awareness using the kites with health messages;  Health awareness through competitions
Dr KK Aggarwal had won many awards and accolades including
Dr D S Mungekar National IMA Award (1991)
Delhi Medical Association Swasthya Health Ratna (2005-06)
DMA Nursing Home Forum Medical Statesman and Communicator of the Last Decade (2005-6)
DMA Dr B N Behl Foundation Award (1992-93)
Cardiology Society of India Mumbai Branch Dr KK Datey Oration (1993)
Rajiv Gandhi Excellence Award (1993)
Indira Gandhi Priyadarshini Award (2003)
Abhipra Samaj Seva Puraskar (2003)
The Great Son of the Soil Award (1996)
IMA New Delhi Branch Swasthya Ratna Award (2002);
IMA New Delhi Branch LifeStyle Interventional Cardiologist of the Last Decade Award (2003)
IMANDB Life Time Achievement Award (2004),
IMANDB Health Communicator of the Last Decade Award (2002) and Rafi award of excellence (2008).
His service to the social cause was also recognised when he was awarded the Dr B C Roy National Award (Govt. of India) in the field of socio-medical relief in 2005 (received in 2008) and the Padma Shri in 2010.
Mission COVID
He went above and beyond to teach the public about the pandemic, aiming to provide adequate information and instruction for non-medical citizens to provide first aid and care for mild to moderate covid patients.
Dr Aggarwal's official Instagram account had over 1000 posts addressing every aspect of the pandemic, and the account was constantly maintained even while he was fighting for his life in AIMS Delhi.
Before his health deteriorated, he was seen responding to a female patient, in an online session, when asked about his health, saying, "My health and life are not significant in the grand scheme of things as I am but a person, as long as I am able to save other lives, it is worth it".
Also read:
Opinion: Secularism in Crises in India