Sir Syed Ahmad Khan was born on 17th October 1817 in a very distinguished and respectable family of Delhi. The family of Sir Syed traces its origin from Prophet Muhammad (PBUH). His father Mir Muttaqui was very close to the Mughal Court. Aziz un Nisa Begum was the mother of Sir Syed Ahmad Khan. She was a strong-willed religious woman.
Sir Syed Ahmad Khan was a great Muslim philosopher, reformer, social activist and educationist of his time. Sir Syed entered the service of East India Company in 1838 and went on to become a judge in Small Causes Court in 1867 and retired from service in 1876. In 1859, he established Gulshan School at Muradabad, Victoria School at Ghazipur in 1863, and Scientific Society in 1864.
In 1875, he founded the Madarsatul Uloom Musalmanan E Hind at Aligarh, which later became The Mohammadan Anglo-Oriental College in 1877 and was upgraded to Aligarh Muslim University in 1920 which was the first Muslim University of South Asia.
Early Life:
No one can become a legend suddenly. To become a person far ahead of his time proper training is necessary from childhood. The most powerful factor in shaping the character of Sir Syed was the influence of his mother. She was a woman of exceptional ability, philanthropic sentiments, and fervent piety.
Sir Syed at the age of 11 or 12 slapped his old aged servant. When his mother came to know about it she threw him out of the house saying that, "This boy does not deserve to live in this house". Sir Syed stayed at his aunt's house for next 3 days. After 3 days his aunt took him to his mother who refused to forgive him unless he apologized to the servant. It is to be noted that he slapped his servant in the 19th Century when there were no Human Rights, no Conventions on Domestic Servants/ Maids and there was no value of servants at that time.
Saving the lives of British Women and Children:
During the Revolt of 1857, Sir Syed was posted at Bijnor. Many British women and children came and took shelter at Sir Syed's house. Rebels came there and demanded that Sir Syed should hand over the women and children to them. Sir Syed refused and asked the rebels to go back as 'Islam does not permit the killing of innocent women and children in war'. By doing this Sir Syed won the confidence of the British and portrayed the correct picture of Islam to the British. This incident also shows the farsightedness of Sir Syed Ahmad Khan.
Writing of Asbab-e-Baghawat-e-Hind: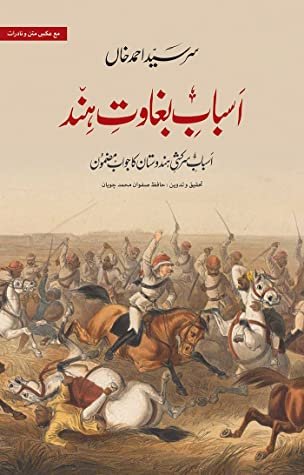 Sir Syed wrote a book 'Asbab-e-Baghawat-e-Hind' in 1859, in which he told the British that Indian's were not responsible for the revolt but it was the wrong policies of the British that led to the revolt. In this book, Sir Syed told the British Government that the under-representation of Indians in government organs was also a reason for revolt. So, after that British Government for the first time nominated 3 Indians to Council. The way in which the book was written, influenced the British and they realized their mistakes. This work of Sir Syed also shows that he was far beyond his time.
Importance of Modern Education:
Sir Syed believed that modern education and scientific education were only the ways which could bring upliftment in the Indian Society. Sir Syed believed that education is a must for every Indian. Sir Syed's conception of future Indian Muslims was as follows, "The Quran on one hand, modern science on the other and on his head the crown of 'there is no God but Allah'."
At a time when revolt failed, thousands were killed and the level of enmity between the Indians and British was at its peak, Sir Syed asked the people to adopt the education system of their enemies. This was highly unacceptable in the Indian society but Sir Syed continued his efforts and finally, in 1875 he was able to achieve his goal by establishing the Madarsatul-Uloom-Musalmanan-E-Hind.
The Right to Education Act was passed by the Indian government in 2009 while Sir Syed advocated this about 150 years ago.
Secularism:
Sir Syed was a die-hard secularist. He said that "We (Hindus and Muslims) eat the same crop, drink water from the same rivers and breath the same air. As a matter of fact, Hindus and Muslims are the two eyes of the beautiful bride that is Hindustan. The weakness of any one of them will spoil the beauty of the bride (Dulhan)".
The first graduate from Sir Syed's College was a Hindu named Ishwari Prasad. Sir Syed appointed a Christian named Sir Theodore Beck as the principal of his college. There were many Christian teachers from England in his college. Sir Syed also wrote commentaries on Bible.
Architectural Knowledge:
The farsightedness of Sir Syed is seen in each and every building which was built or started to build in his time. While entering, Victoria Gate, SS Hall (South) a feeling comes that we are visiting a historical site. The first look at Stretchy Hall shows the dedication of Sir Syed that his vision and mission is standing tall even after so many years. When we look at the Jama Masjid of AMU it becomes hard to believe that it was built by donations that Sir Syed took and not from the treasures of any Mughal Emperor.

Conclusion:
Ultimately, it has become clear that Sir Syed Ahmad Khan was a person ahead of his time. His farsightedness is seen in each and every aspect of his life. He was a man who had a mission to educate the Muslims of India and he was successful in it.
-Article by Abdullah Samdani
Also Read: A true essence of AMU and modernization through the eyes of Sir Syed Ahmad Khan