When protests took violent face in more than 50 places, students of Aligarh Muslim University gave a message of secularism and indiscrimination by reciting preamble
It's been seven days since the police entered the grounds of Aligarh Muslim University following a dissent, which has since pushed a lot more fights against the Citizenship Amendment Act in the nation, however around the world.
On Friday, 27th of December, students protested against CAA in the campus very peacefully. The protest was addressed by a third year graduate student who lifted the spirits of students for remembering their rights and duties towards the nation despite being assaulted physically, mentally and emotionally. Students also inveigh about a continuous target on students from various universities being called anti-nationals and urban naxals.
"Preamble reading infuses compassion towards nation further inside the people of India. It further tells that our country is sovereign, secular, and it does not belong to any one religion." said by a student. "We are educated students of a central university. We are cultured. And we understand what is written in the Act. Do not try to fool us." it adds. They also expressed their condemnation by mass tearing of Citizenship Amendment Act copy. Later, a student of law from Aligarh Muslim University read the preamble and was repeated by all the students present. A high school student, Sana Anjum later recited a self composed poetry opposing CAA. Momin Ali, Ph.D student at Aligarh Muslim University also joined with his melodious flute playing on Saare jahan se achha and National Anthem.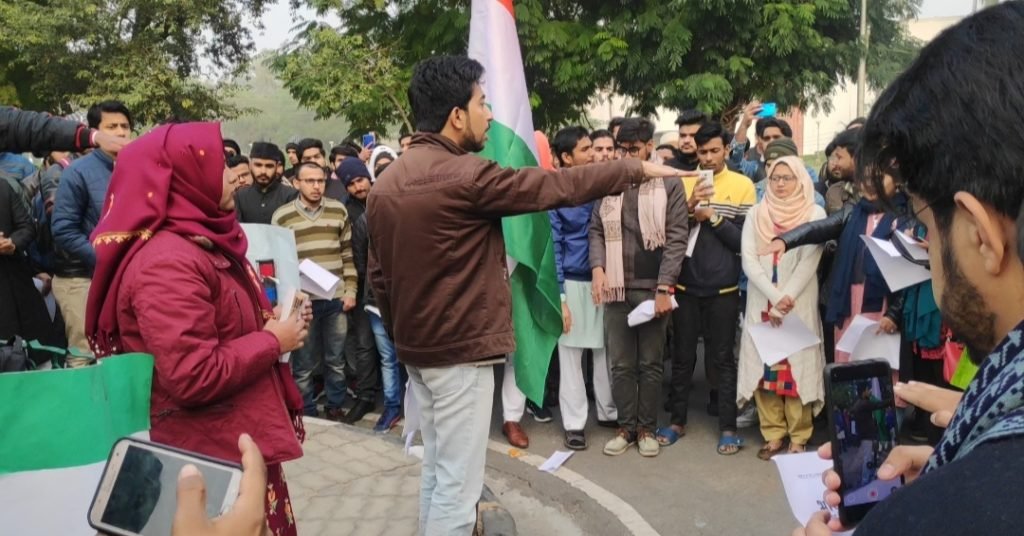 Flute playing on 'Saare Jahan se Achha'