While government hospitals are vital for a developing economy like India, let us accept that their state is appalling (adding to the burden of private hospitals). In order to receive a turn in an OPD, a patient must wait hours in line, adding to the patient's miseries. And if the patients need to be admitted for medical treatment, the process can take a long time. Surgical treatments and procedures can take months to complete. Any average public hospital in the country operates in this manner. 
Due to these issues, one may wish to seek treatment at a private hospital in order to receive assistance more quickly and effectively.
That's why we are here to show you the Top 5 Private hospitals in Aligarh,
1. Maxfort Multispeciality Hospital
Location: Opposite KK Heart Hospital, Indraprasth Enclave, Ramghat Road, Aligarh
Contact: 9837040699
 The Maxfort Multispecialty Hospital is noted for having highly qualified paediatricians on staff. In Aligarh, Dr Abhishek Sharma, a well-known paediatrician, practices. Maxfort hospital is mostly trusted because of its staff which is helpful and friendly with a clean environment. It gives strong emphasis to its key pillars which are medical expertise and quality care provided. 
Specialities: 
Critical Care

General Medicine

General Surgery

Dentistry

Neonatology

Orthopedics

Obstetrics and Gynecology

Pathology

Paediatrics

Traumatology
Location: 4/36, Kela Nagar, Civil Lines, Aligarh
Contact:  098087 37634
The Taj Hospital in Aligarh is a caring health facility where patients can recover and repair in the greatest possible method. Since Their inception in 2005, they have offered aid and hope to countless patients who limped into the hospital with a variety of diseases but walked out with a newfound sense of energy and health. Their medical facilities and services are truly world-class, and patients of all economic and social backgrounds receive treatment that far exceeds their expectations. 
Specialities-
Pediatric

Gynaecology

Orthopaedics

Dentistry

Ophthalmology

General Medicine
The General Physician of Taj Hospital is Dr Mohammad Adil Ansari, who is a trusted and reliable expert in the field. His behaviour and sincerity satisfy his patients and help them cure their condition exponentially.
3. Mithraj Hospital
Location: Ramghat Road, Near Sports Stadium, Rambagh Colony, Aligarh
Contact: 088998 12345
Mithraj Multispeciality Tertiary Hospital & Research Centre is a top-rated hospital with advanced facilities, round-the-clock doctor availability, high-quality care, and cost-effective surgical treatment options. Mithraj Multispeciality Tertiary Hospital & Research Centre provides both emergency and elective services with well-trained professionals to ensure that patients receive the best possible care.
Specialities-
Orthopaedics

Gynaecology

Podiatry

Urology
Otorhinolaryngology
Cardiology
General Medicine
4. Firoz Hospital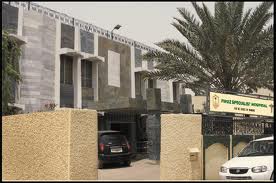 Location:  Sir Syed Nagar Road, S.S Nagar, Aligarh
Contact: 08171337963
Firoz Hospital is considered one of the best private hospitals in Aligarh, especially in Sir Syed Nagar. It has been serving people for a long time now and has proven to be one of the most trusted hospitals in Aligarh. Services provided are efficiently executed here and the staff is very caring and friendly. Hospital has various modern technologies to perform various kinds of treatments. Gynaecology in Firoz Hospital is considered among the best in the city.  
Specialities
Gynaecology

Orthopaedics

Paediatrics

General Medicines
Cardiology
5. Aligarh Hospital & Maternity Centre
Location: 4/167, Dodhpur Rd, Kela Nagar, Civil Lines, Aligarh
Contact:  093582 57992
Aligarh Hospital & Maternity Centre is a well-equipped healthcare facility that ensures satisfying treatment to its patients with care and friendly behaviour. They not only provide the best treatments to their patients but also provide them with a clean and Hygienic Environment that helps them in faster healing. It has been becoming popular because of the modern facilities they provide. 
Specialities:
Cardiology

Neurology

Gynaecology

Oncology
Obstetrics
Dermatology
Orthopaedics
Also Read: Top 5 Coaching centres in Aligarh for Science students